Are skateboards for bulldogs and other dogs really a reality? Or is it simply a trick made up by influencers and the media because it looks cute in a post or video? If you want your pet dog to have a go at riding skateboards themselves then read on.
Is there anything cooler than the sight of a dog on a skateboard? I don't think so. We are constantly bombarded with these images on social media and on television shows.
Instagram is particularly bad for this. The amazing image of a bulldog riding a skateboard is ingrained in our minds because of certain television shows and social media posts.
In this post, we will talk about the best skateboards for your pet dog especially if your dog is a bulldog as these breeds are specifically built in a way that works great with skateboards. They are the best dogs for skateboarders then perhaps for this reason.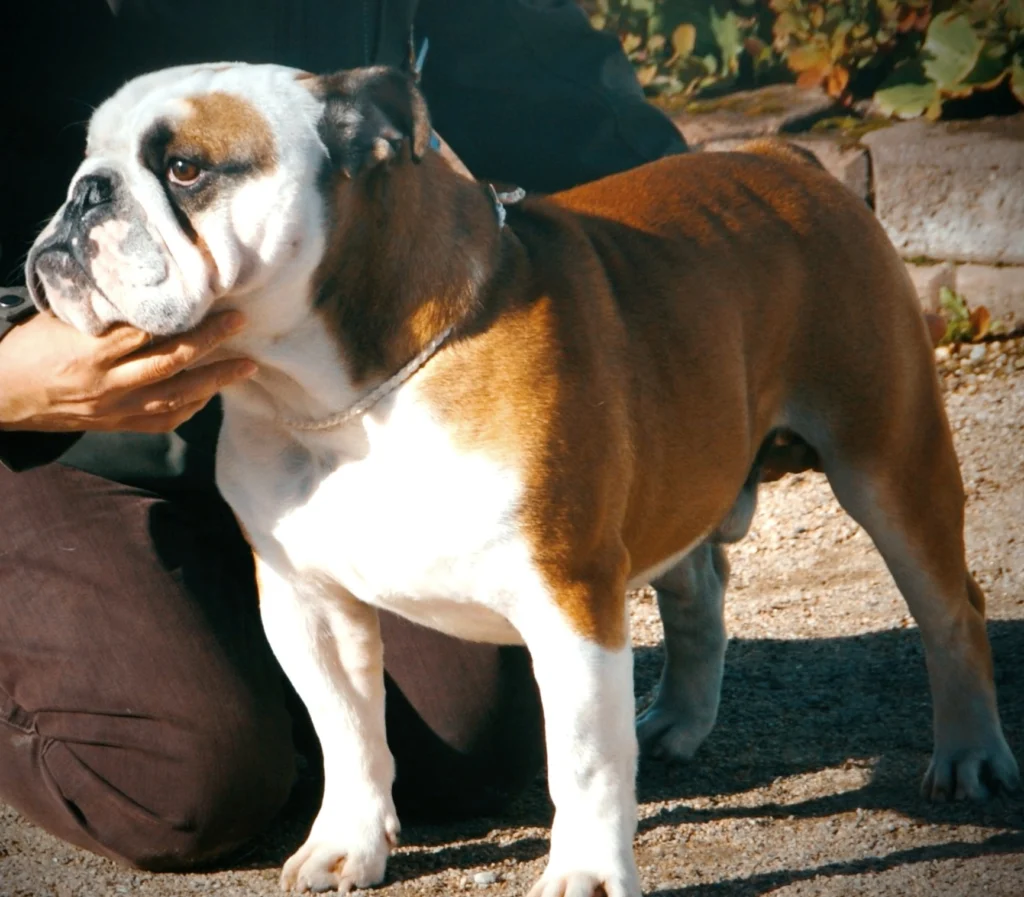 If you are considering getting a skateboard for your dog and you're probably wondering whether they need a special type or if they can use the standard-issue skateboard as a human would ride. Skateboarding can be a great exercise for your dog. It's a great sport which requires a little training for your dog to learn and it's also a great way for you to have fun and bond with your dog.
It is most common to see Bulldogs riding skateboards at skate parks and down the sidewalk. But many other breeds of dogs can do this too. Bulldogs have an advantage over other breeds of dog as they have a low centre of gravity and a muscular frame and short legs which allow them to balance well on the board.
If you would like to train your dog to do this, then it is absolutely possible with the right training and some patience not all breeds will be able to do this. Dachshunds, for instance, will be inhibited by their short legs.
Can bulldogs really ride skateboards?
You may think that skateboards for dogs are a bit of a gimmick or hoax. While dogs are physically able to ride a skateboard, they may struggle depending on what breed they are. Dogs don't have the same mental cognition as humans so they may not understand what you are really asking them to do.
They may not ride a skateboard for very long or may not even enjoy the task. If your dog or bulldog likes riding skateboards then this is great for them. You should encourage the activity as a way to exercise your dog, especially if you have a yard or garden as their outdoor space.
At the same time, don't expect your pooch to look forward to visiting the skatepark. They may not enjoy the activity that much compared to simply running around in a park or at a beach.
Skateparks are for humans and a dog may not get as much enjoyment from it as you. As a dog owner, you have to ask yourself who is more entertained by a dog riding a skateboard? If this exercise is done moderately then they will like it.
Do dogs like riding skateboards?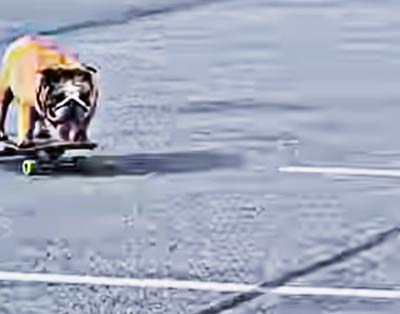 Your four-legged friend may have a great time riding a skateboard, but it may not be right for some dogs. Medium-sized dog breeds such as labradors and spaniels should be able to physically ride a skateboard, but they may lack the initiative. Weighty four-legged dogs such as bulldogs may be more suited to this activity as their ability to balance is different due to the amount of muscle they have when pushing the skateboard along.
If your dog looks like they are displaying unusual behaviour after riding then give them a break and let them rest. For instance, your dog may chew his paws after a walk.
This behaviour often means there is something wrong and there can be many reasons for this.
In the case of the Instagram and influencer star above, then it seems the answer is yes. The owners even take the dog out to choose the best skateboard for their dog in one video. The bulldog seems happy about it.
What is the best skateboard for dogs?
The best skateboards for dogs come in a variety of shapes, sizes and price points. Many pet owners opt for plastic or wooden mini-cruisers, as they are lightweight and easy to carry around.
Some more adventurous dog owners may choose to go with a longboard which provides the most stability at higher speeds.
All-terrain boards are ideal for dogs that love to explore the outdoors, as they are designed with larger wheels and a more robust build.
No matter what type of skateboard you choose, make sure it is suitable for your pup's size, weight and skill level. It should also be comfortable enough for them to stand on without slipping off! Finally, ensure that you select a quality and durable product that will last for years to come.
Always supervise your pup while they are using a skateboard, as safety should always be the top priority. Happy shredding!
Top trusted boards for dogs:
Kryptonics Stubby 19 Inch
Yocaher Punked Complete Skateboard 31 inch
SANTA CRUZ 80's Classic Dot Skateboard
Hi-Na Hinaboard Mini Longboard
Globe Stubby Skateboard
Kryptonics 27″ Cruiser Pug Life
CyBoard Pink Mini Skateboard
NKX Maverick Surfskate Carving Cruiser Skateboard
See below why these boards are great for dogs and which one may be suitable for your canine friend!
1. The Kryptonics Stubby 19 Inch is a great skateboard for smaller dogs who only need a little bit of fun. It has 19" of length and 6.0 width, making it ideal for small pups. This board comes with 8-ply maple construction and durable 70mm PU wheels, ensuring your pup won't have any trouble getting around. It also includes ABEC-5 bearings and has a maximum weight capacity of 200 pounds. It is perhaps the best skateboard for small dogs to ride on.
2. The Yocaher Punked Complete Skateboard is another great option for small to medium-sized pups. Coming in at 31 inches long, this board features 8 layers of maple construction with aluminum alloy trucks that provide stability and durability. The 60mm PU wheels make it easy for your pup to move around, while the ABEC-7 bearings make sure they can turn on a dime. This board also comes with tool-free assembly, so you won't have to worry about complicated setup.
3. If you're looking for something classic yet stylish, the Santa Cruz 80's Classic Dot Skateboard is the perfect choice. This board comes with a classic dot graphic, 7-ply maple construction and 5.0" trucks to give your pup stability while they're on the go. It also features 65mm PU wheels that provide a smooth ride and ABEC-7 bearings for quick turns.
4. The Hi-Na Hinaboard Mini Longboard is great for larger pups who need some extra space. With 31 inches of length and 8 layers of Canadian Maple construction, this board provides durable performance and resistance against wear and tear. The 80mm PU wheels make it easy for your pup to move around, while the ABEC-9 bearings ensure fast response time when turning or changing direction.
5. The Globe Stubby Skateboard is a great entry-level board for dogs of all sizes. This board comes with 7-ply maple construction, 5.0" trucks and 54mm PU wheels that make it easy to maneuver around tight spaces. It also features ABEC-5 bearings that ensure smooth turns and provide your pup with lots of control while they're skating.
6. The Kryptonics 27″ Cruiser Pug Life is perfect for pups who like to cruise around town. This skateboard comes with 8 layers of Canadian Maple construction, 6.0″ aluminum alloy trucks and 60mm PU wheels for an optimal performance. The ABEC-7 bearings will guarantee fast response time when turning or changing directions, so you can rest assured your pup won't get stuck in a corner.
7. The CyBoard Pink Mini Skateboard is great for smaller pups who want to have some fun on their own. This board comes with 6-ply maple construction, 4.0" trucks and 50mm PU wheels that provide a smooth ride. It also features ABEC-7 bearings that make sure your pup can turn on a dime while they're out and about.
8. Finally, the NKX Maverick Surfskate Carving Cruiser Skateboard is perfect for larger pups who like to really tear up the pavement. With 8″ of width and 9 layers of maple wood construction, this board ensures stability and durability when skating around town or down the street. The 65mm PU wheels provide an extra smooth ride and the ABEC-9 bearings make sure your pup stays in control when turning or changing directions. With this board, you can rest assured that your pup will be having a great time out on the pavement.
Do skateboards need to be a certain size for dogs?
No, they do not need to be a certain size for dogs. However, it is important to make sure that the board you choose fits your dog's size and weight comfortably.
It is also important to look for boards that are designed specifically for dogs and have features such as non-slip surfaces or brakes, as these can help keep your dog's paws and claws safe and with a good grip while skateboarding.
Lastly, it is a good idea to start with a smaller board and gradually increase the size as your dog becomes more comfortable and confident on it. With the right gear and some practice, you can safely introduce skateboarding to your dog and have he or she riding happily. Why not try a harness for skateboarding safely?
Now you're ready to hit the streets with your pup and shred in no time! With these skateboards, your furry friend will have a blast going on outdoor adventures with you. You can even include your pup in longboard and electric skateboard races! Who knows, they might just win the gold medal.