Are you looking for an interactive and fun way to keep your pup engaged? Look no further than self-moving dog toys! These motorized toys move on their own, providing hours of entertainment and stimulation and are dog toys that move on their own.
The best part is that they don't require any effort or energy from you – just set them in motion and watch as your pup chases after them as they move around.
Toys for dogs that move by themselves are perfect for keeping dogs busy and entertained when you can't be around to play with them yourself. Plus, these toys encourage physical activity which helps promote a healthy lifestyle for your four-legged friend.
So why not give one a try today? See my list below for the best ones. New and updated for 2023.
Pros and Cons of Moving Dog Toys
There are many times when a pet owner will want to get their dog interactive toys to play with. See the table below for the good and bad points of these self-moving playthings.
| Advantages | Disadvantages |
| --- | --- |
| Keeps dogs entertained for longer periods of time | May become broken or stop working after a certain amount of time |
| Encourages physical activity and exercise for dogs | Possibly too noisy for some dogs and cause stress or anxiety |
| Can be used for solo play or interactive play with owners | Some toys may not be durable enough for heavy chewers |
| Can stimulate mental activity and challenge dogs | May pose a choking hazard for small dogs |
Indoor moving dog toys:
Dog toys that are motorized and moving are great if your dog is higher in energy than you. Check out the following items:
Wobble Ball
This ball moves around in a wobbly fashion, thanks to its unique shape and is great for smaller dogs. Made of durable non-toxic plastic, it's designed to withstand many rounds of play. Its bright colors also make it easy for dogs to spot and chase around.
The ball is perfect for interactive activities like fetch, as well as solo playtime for your pup. This ball helps promote fun activity between you and your pup while providing them with mental stimulation and exercise.
So if you're looking for a toy that's both fun and stimulating – this Wobbly Ball is an excellent choice!
The good points of this dog toy:
Durable and non-toxic material so it's safe for your pup
Unique shape makes it wobble around as your pup plays
Bright colors make it easy for your dog to spot and chase the toy and play and move on their own
Perfect for interactive activities such as fetch, and solo playtime
Promotes fun activity between you and your pup while providing them with mental stimulation & exercise.
The not-so-good points of this dog toy that moves on its own:
On the smaller side so not suitable for larger dogs
Wobble motion can be unpredictable, making it difficult to play fetch with your pup
The ball can roll away from the playing area, making it difficult to find if you don't have a fenced-in yard.
Overall, the Wobble Ball is an excellent choice if you're looking for a toy for dogs that moves by itself.
With this smart ball, you can give your furry friend hours of entertainment without putting their safety at risk.
Bob-A-Lot
This interactive treat dispenser is more than just a toy; it encourages your pup to work for its rewards. Bob-A-Lot works by randomly dispensing treats when your pet interacts with it. When a treat is dispensed, the toy rocks back and forth, enticing your pup to keep playing for more rewards.
The adjustable opening allows you to control the difficulty – making it easy for puppies to get started and harder for experienced dogs who are looking for a challenge.
This motorized dog toy also has an automatic shutoff timer so you don't have to worry about overfeeding! With its interactive design and adjustable settings,
Bob-A-Lot provides an exciting new way to play and reward your pup. Plus, it looks great in any home – with its sleek design and colorful accents! Get ready for endless hours of entertainment as your pup learns.
Doggy Fun Flips Interactive Toy – With its simple design, this interactive toy flips and rolls when your dog chases after it, providing hours of fun for any size dog. It comes with an easy-to-use remote control that allows you to set the speed of the flips and turns.
Dog toys that move around on their own are amazing. Especially for busy or older owners that may have mobility issues.
Automatic ball launcher toys:
These come in handy when you don't want to bend down repeatedly to pick up your dog's ball. Ball launchers work great for this purpose. They are a classic example of dog toys that can move on their own. See the options below.
This interactive ball launcher is great for both small and large dogs, as it can fire balls up to 30 feet away. It's available in a variety of sizes, so you can find one that fits your pup's size perfectly!
It also features adjustable launch settings and a motion sensor to protect pets from the ball's trajectory. The launcher is an excellent way to keep your pup entertained for hours!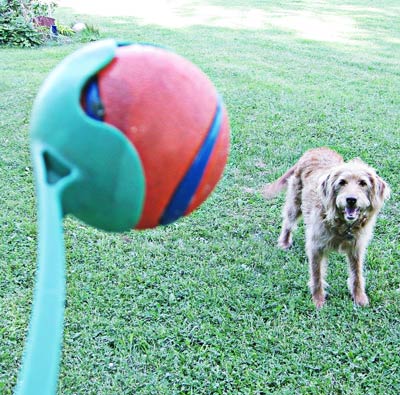 This is a great toy for people who can't or don't want to bend down in a repetitive manner to throw a ball for their pup. It eliminates the need for you to manually do it, so your energy is conserved and your pup still gets their fun time.
The PetSafe Automatic Ball Launcher also has an inbuilt timer that allows you to set times when the balls are launched, making it perfect for those who may have limited time to play with their pup. It is a self-moving dog expeller that makes play more automatic for dogs.
Not only is this moving dog toy great for keeping your pup entertained, but it also aids in their physical health. The launcher assists your pup with regular, gentle exercise and stimulates them mentally too – a great combination!
Overall, this launcher is a great product for both pup and owner alike. It encourages your pup to stay active, has adjustable launch settings too.
K9 Kannon Automatic Ball Launcher
This motorized ball launcher is perfect for larger breeds like Labradors and retrievers. It launches balls up to 30 feet away and is adjustable for different distances. The K9 Kannon also includes a rechargeable battery that can last up to 200 launches!
The Kannon is easy to use and can be set up in minutes. It also includes a safety switch that prevents the ball from launching if something is in its path.
With the K9 Kannon, your pup will never get bored of playing fetch! This self-play dog toy is definitely a great way to keep your pup entertained and give them plenty of exercise. It is good for both indoor and outdoor use and is made with durable materials that can withstand the wear and tear of everyday play.
So if you're looking for an interactive toy that will keep your pup entertained and active, the K9 Kannon Automatic Ball Launcher is a great choice!
Fetch-Bot
An automatic ball launcher that provides hours of playtime with minimal effort from you. The launcher is designed with safety in mind and only launches balls up to 20 feet away. It has an adjustable distance setting, so you can customize how far the ball will be launched.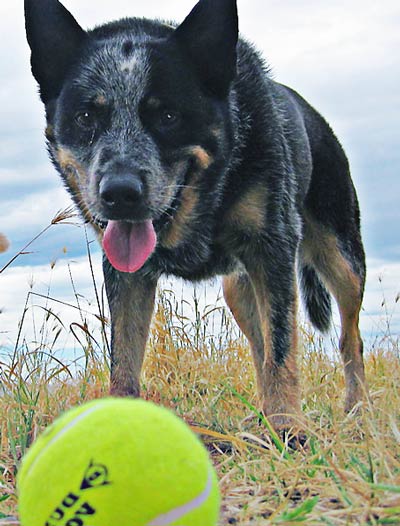 The included remote control makes it easy to launch and retrieve balls from a distance, eliminating the need to bend down and pick up the ball yourself. It even features a built-in treat dispenser to reward your pup for playing fetch!
With Fetch-Bot, you can give your pup the ultimate playtime experience with minimal effort. So kick back, relax, and let Fetch-Bot do all the work!
Zoom-N-Go
This toy can move around at varying speeds, so your pup will never get bored! The Zoom-N-Go comes with a variety of exciting features. The built-in tracking system allows you to monitor your pup's playtime, so you can make sure they're getting enough exercise.
The built-in sound system can be used to reward your pup with fun sounds when they perform a trick or complete an obstacle course. And the remote control feature allows you to take control of the toy from anywhere in the house.
With so many great features, Zoom-N-Go is sure to be a hit with your pup! So get ready to have some fun and zoom around with Zoom-N-Go! This may be ideal for dogs with a lot of energy such as the Springer Springer Spaniel.
The zoom-n-go toy can help keep them moving and active on their own and entertained by providing hours of playtime. With its adjustable speed settings, you can set the toy for fast or slow depending on the pup's needs. The built-in sound system can also be used to reward your pup with fun sounds.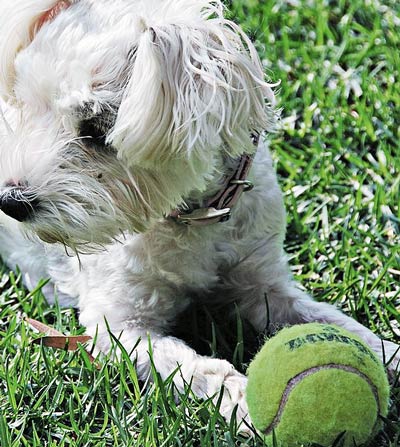 Zoomer Dog robotic toy – This interactive robotic toy from Spin Master is perfect for dogs of any size or age. With its realistic movements, your pup will have a blast chasing after it. Plus, you can even control the robot with your phone through an app, making it extra fun!
These are just some of the best self-moving dog toys available at the moment.
Final thoughts on self-play dog toys
Self-play dog toys are a great way to keep your pup entertained when you're not around. They are self-moving toys so dogs can play by themselves without you having to do anything. Not only do they provide hours of entertainment, but they also help promote physical activity and mental stimulation for your furry friend.
These types of toys come in all shapes, sizes and prices so be sure to find one that fits your pup's needs and budget. With the right toy, you can ensure that your four-legged friend stays active and happy!
And don't forget to supervise them while they play with their new moving toy! Safety should always come first.